Tax Exempts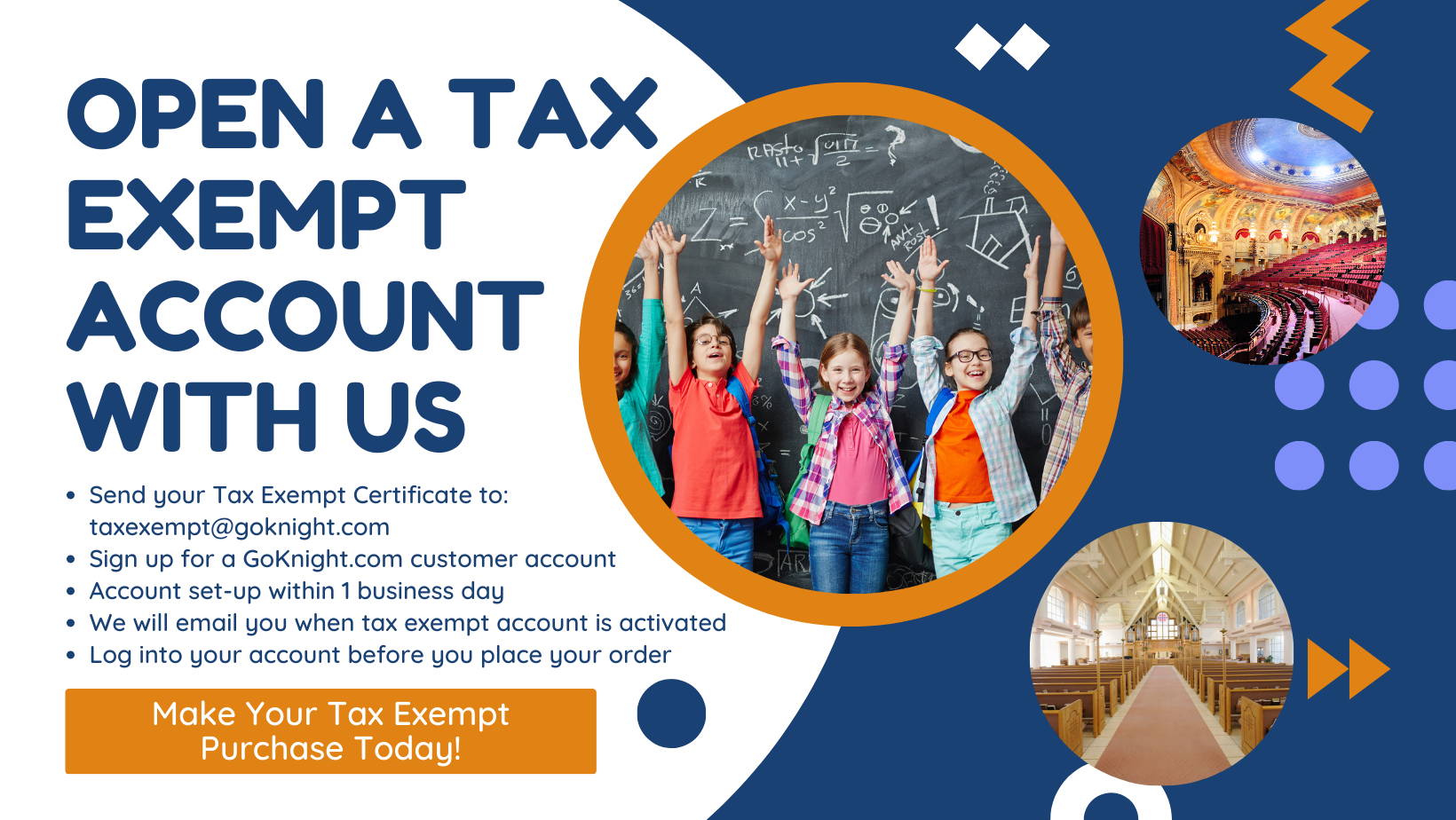 Knight Sound & Lighting specializes in work with tax exempt organizations including non-profit organizations, including places of worship, places of education, government entities, resellers, and non-profit arts organizations. As such, we offer special benefits to our non-profit customers:
WE OFFER NON-PROFITS CUSTOM PRICING: If you are looking for our most favorable, customized pricing - then please Live Chat or call us at 1-866-457-5937 for your custom quote. We can provide the best pricing with larger, volume purchases.
WE COLLECT SALES TAX EXEMPT CERTIFICATES SO WE CAN REMOVE TAXES ON ORDERS FOR TAX EXEMPT ENTITIES:
Please note we only collect sales taxes in the following 13 states and territories: California, District of Columbia, Florida, Illinois, Indiana, Iowa, Kansas, Maryland, Michigan, Minnesota, New Jersey, Ohio, and Pennsylvania. If you place an order that will ship to a state other than these states, then the sales taxes will be removed from the order when the shipping address is entered.
If you are in one of our 13 taxable states or territories, then please do the folowing to set up a Tax Exempt Account:
Please email your Sales Tax Exempt Certificate to taxexempt@goknight.com prior to placing your order.
(If you already have a GoKnight account, then we just need your Tax Exempt Certificate).
Once we have validated your Tax Exempt Certificate, then we can make an indication in your customer account that you are Tax Exempt.
You can then log into your account and make a tax exempt purchase.
SALES TAX INFORMATION FOR NON-PROFITS.
Knight Sound & Lighting collects sales taxes in the following 13 states and territories:
California
District of Columbia
Florida
Illinois
Indiana
Iowa
Kansas
Maryland
Michigan
Minnesota
New Jersey
Ohio
Pennsylvania
If the ship to address is going to one of these taxable states, then please follow the steps above so we can indicate your account as Tax Exempt.
If the ship to address for your order is NOT going to one of these taxable states, then you will NOT be charged any sales taxes.
WE DO ACCEPT PURCHASE ORDERS. We typically request that your first order is placed via credit card or a traditional payment method. At that time we can gather all necessary information to set you up in our payment systems to take subsequent orders via PO. Please contact us at 866-457-5937 or info@goknight.com to set up your customer account for payment via PO.