Posted by Mark A. Knight on 7th Oct 2019
Do you have an existing ILC LightMaster Relay Panel? If so, the ILC LightMaster has probably worked well for you and your facility for many years. However, the ILC LightMaster is a discontinued relay panel system and the replacement parts for this system are becoming obsolete.
You have a couple of options at this time.
OPTION 1 – SERVICE AND SUPPORT ON YOUR EXISTING ILC LIGHTMASTER SYSTEM
First, you can purchase the remaining parts and pieces for the ILC LightMaster Relay Panel System from our website store at the following link: ILC LightMaster
In addition, our technical support staff knows the ILC LightMaster Relay Panel System and can work with you to troubleshoot and/or repair your system. If you would prefer us to come to your site for an on-site field service visit and/or training session, we are available for these services, as well. You can schedule a field service visit with our office by calling 866-457-5937 or by using the following website link: Technical Services/Field Service
OPTION 2 – RETROFIT OF THE ILC LIGHTMASTER RELAY PANEL SYSTEM WITH A NEW ILC LIGHTLEEDER RELAY PANEL SYSTEM
Second, we can provide an ILC LightLEEDer Retrofit System, which will fit into your existing ILC LightMaster Enclosure and will not require any major changes to your system. The ILC LightLEEDer Retrofit System will use the existing relays (ILC R29C), input/output boards, transformer, analog switches, photocells, occupancy sensors, and many other components from the original ILC LightMaster System. These items are still produced and able to be replaced at any time. You can learn more and browse HERE.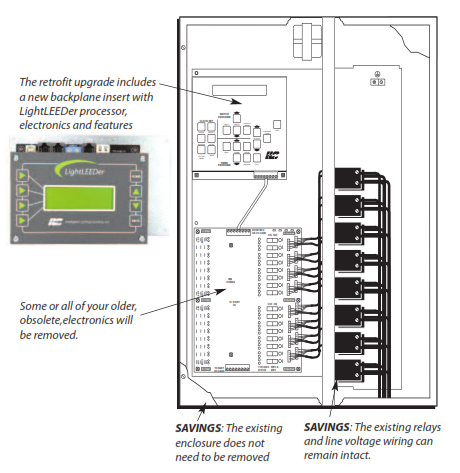 What does get replaced when you purchase and install an ILC LightLEEDer Retrofit System is the Main Processor (CPU), LCD/Keypad, and ribbon cables for communication to the existing ILC LightMaster (now Retro) input/output boards. In addition, a new ILC LightLEEDer Power Distribution Board is added for the splitting of the power between the different control devices in the relay panel.
If you have existing ILC LightSync Control Stations (stations that use a Category 5 cable connection) on your ILC LightMaster System, they MAY need to be replaced with new control stations. This is dependent upon the model of LightSync Control Stations that you have on your current system. We can provide help with this decision through a tech support phone call.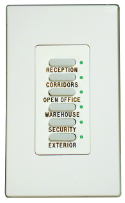 The new ILC LightLEEDer Retrofit System can be programmed from either the LCD/Keypad or through a free computer program called ILC LightLEEDer Pro (Network or Stand Alone) Software. This software is available for free and can be downloaded from the following website link: ILC Resource Library
If your system has multiple relay panels connected together to form one system (more than 1 panel connected together via ILC LightSync), then you will also add an ILC LightLEEDer Network Controller (either Simple or Advance). The Simple ILC LightLEEDer Network Controller uses a USB connection to a laptop computer for programming and operation of the system. While the ILC LightLEEDer Network Controller with Advance features has a TCP/IP connection that allows you to use your facility's computer network for communication from authorized users of the system, via the computer program.
If you would like more information about the ILC LightLEEDer Retrofit System that retrofits your existing ILC LightMaster Relay Panel System please call us toll-free at 866-457-5937 or send us your preliminary information via this form: Project Quote Request