Posted by Katie Housel on 13th Nov 2019
This holiday season we are excited to offer you our list of favorite Audio-Technica products that will have you checking off everyone on your holiday list - no matter your budget. These gifts are great for teenagers, significant others, musicians, audiophiles, content creators, gamers, podcasters, streamers, singers, and music lovers. We think you and yours will love Audio-Technica products just as much as we do. Our wish this holiday season is that our favorite things become your favorite things!
Here's a handy list of Our Favorite Things:
Hint! Look at our great Holiday Promotions for even better pricing on the items listed above.
Turntables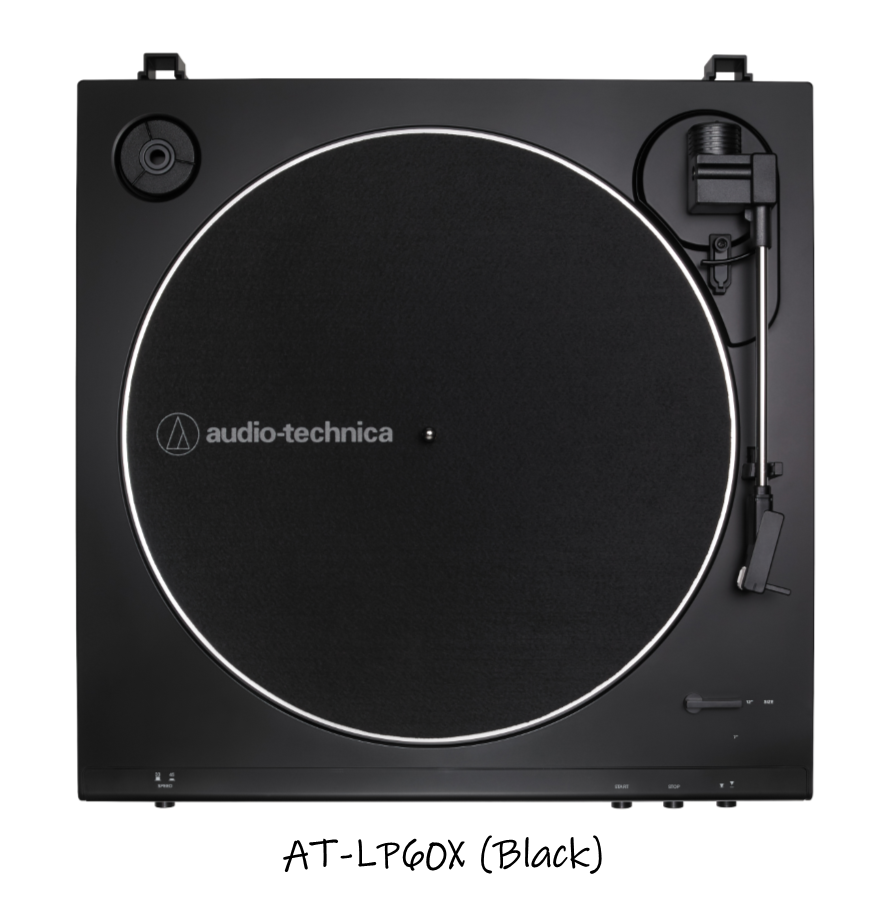 Turntables are all the rage right now. This is the perfect gift for teens, music aficionados, and the "person who just already has everything." Pair this gift with a day of shopping for vintage records with your loved one. A perfect way to cap off this high-fidelity listening experience with some quality time together.
The best-selling Audio-Technica LP60X turntable is an affordable option for the turntable novice. For just $99, this user-friendly turntable includes fully automatic, belt-driven functions which control the tonearm and the motor for a worry-free connection. The turntable plays both 33-1/3 and 45 RPM records and can connect directly to your home stereo or speakers via the switchable phono preamp. It comes with a detachable RCA output cable, 45 RPM adapter, and a removable hinged dust cover. It is available in a variety of colors - black (AT-LP60X-BK), brown/black (AT-LP60X-BW), gunmetal/black (AT-LP60X-GM), and red/black (AT-LP60X-RD).
The slightly more advanced turntable options are the LP60XUSB ($129) and the LP60XBT ($149). The LP60XUSB lets you connect directly to your computer via USB so you can convert your records to digital audio files. The LP60XBT is the Bluetooth enabled wireless option so you can connect to speakers or headphones without any cables. This model is available in black (AT-LP60XBT-BK), white/black (AT-LP60XBT-WH), and red/black (AT-LP60XBT-RD).
Studio Monitor Headphones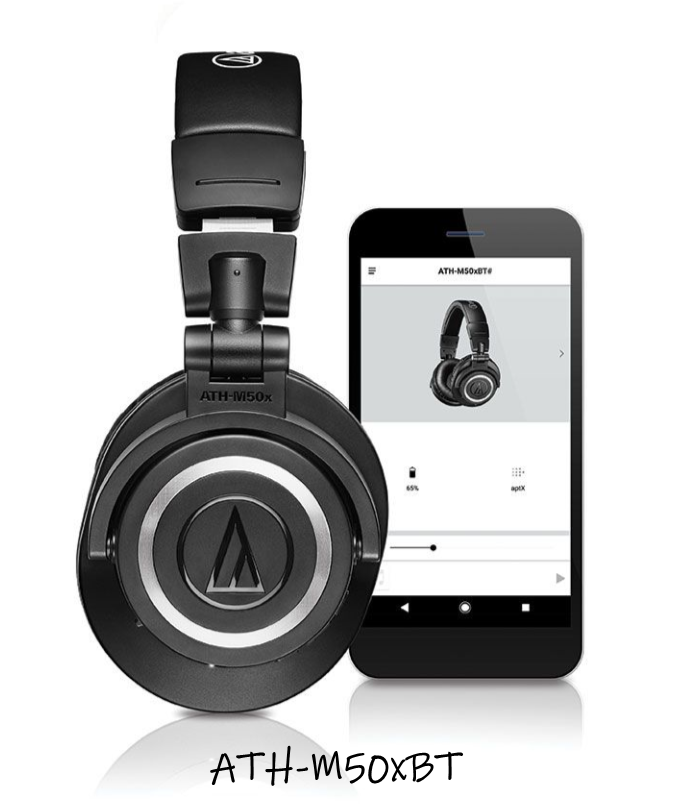 Audio-Technica's M-Series line of studio headphones provides a top-quality listening experience, comfort, and features galore. Our favorites? The very affordable ATH-M20x ($49) and the best-selling ATH-M50X ($149).
The ATH-M20x is the most affordable choice, but still provides excellent sound reproduction. It was designed for studio tracking and mixing and has circum-aural earcups (over-ear) for excellent sound isolation. Many schools are using Audio-Technica ATH-M20x for their students, so maybe your child already knows and loves these headphones.
The bestselling ATH-M50x was designed for mixing, recording, and DJing. It features extended frequency range and accurate bass response. The ATH-M50x is also great for anyone who enjoys listening to music, movies, podcasts, or TV shows via headphone. The earcups are closed-back, circum-aural earcups and are on a 90-degree swivel for one-ear monitoring. This is coupled with detachable cables and a collapsible design for easy travel. The M50x is very comfortable to wear and challenges the likes of Beats by Dr. Dre. The M50x is available in black, white, and blue-tooth enabled options (M50x-BT).
Gaming Headphones
Our favorites? The Audio-Technica ATH-G1 ($169) and the Audio-Technica ATH-G1WL ($249). Introduced in the year 2019, both are light, comfortable headsets that offer studio-quality sound with a detachable boom mic that turns the headset into high-quality headphones.
The ATH-G1 has an attached cable with easy, one-handed access to volume and mute controls. It comes with a y-type adapter cable and windscreen and is compatible with laptops, PCs, and popular gaming devices like the Xbox and PS4.Gaming headphones are a must for today's dedicated gamer.
The ATH-G1WL is for the gamer who wants to go further into the game. It offers wireless connectivity and switchable 7.1 surround sound. The volume and mute controls are located along with the closed-back earcups for easy access. It comes with a USB Type-A wireless transceiver (dongle), windscreen, and spare earpads. It is compatible with laptops, Macs, and PCs.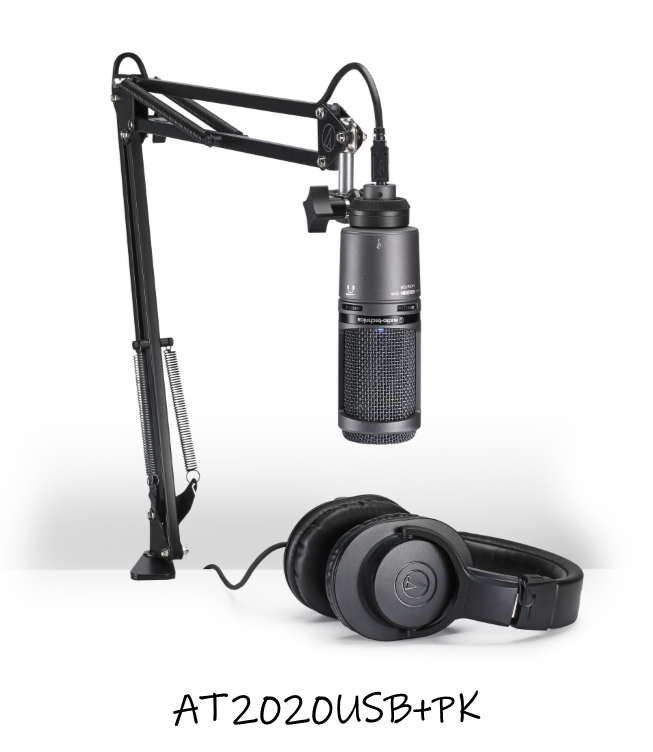 Podcasting Products
Do you love a podcaster? Want to get your kids off of screens and spend some time making a podcast with them instead? This is the gift that will give you back some time with the ones that you love - making great podcasting content together. We are big fans of the Audio-Technica USB podcasting packages. These include USB microphones for capturing your recordings as well as headphones.
For USB enabled podcasts, our favorites are the Audio-Technica AT2005USBPK ($139) and the Audio-Technica AT2020USB+PK ($219). Both of these combos provide a USB microphone which plugs directly into your computer via USB cable as well as studio monitoring Audio-Technica M20x headphones. These podcasting packages are easy to install and easy to adjust. The 2005USBPK and 2020USB+PK packages also include an adjustable studio boom arm clamp which securely attached to desks, tables, and other flat surfaces. The boom can swing 360 degrees for ease of use and functionality.
For podcasts which use XLR connections, the Audio-Technica 2020PK ($169) and 2035PK ($199) packages are the best podcasting packages. These packages include a cardioid condenser microphone and headphones. These cardioid condenser microphones are plugged in via XLR cable. Just like the AT2020USB+Pk and the AT2005USBPK, the 2020PK and 2035PK packages also include an adjustable studio boom arm clamp which securely attached to desks, tables, and other flat surfaces. The boom can swing 360 degrees for ease of use and functionality.
Microphones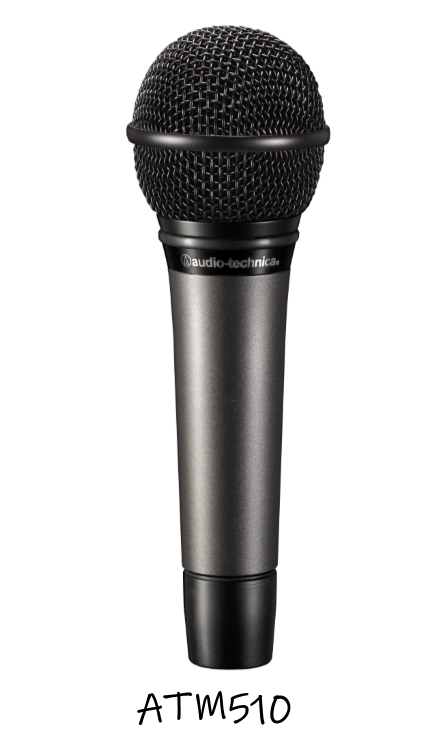 Do you know someone who loves to sing? Anyone with dreams of grandeur and their name in big lights on a stage some day? Well, get them a great vocal microphone so they can start on their path to glory.
For the beginning vocalist, we recommend the ATM510 Cardioid Dynamic Handheld Microphone ($99). Equipped with newly designed internal shock mounting for reduced handling and stage noise, this cardioid dynamic workhorse is designed for smooth, natural vocal reproduction. The microphone features super-durable construction for long-lasting performance, a rare-earth magnet for high output, and a multi-stage grille design for excellent protection against plosives. Its cardioid polar pattern reduces pickup of sounds from the sides and rear, maximizing isolation from other sound sources and minimizing feedback.
According to MicReviews.com, one of the top 10 best vocal microphones for recording is the Audio-Technica 2035 ($149). As per MicReviews.com, "It was tough trying to pick just one Audio-Technica mic to recommend in here for vocals, but ultimately this one made sense. The AT2035 is a very popular model for recording vocals and the hundreds of user reviews everywhere helps us with confidence in its reliability and performance. It's a side-address condenser with a switchable 80 Hz high-pass filter and 10 dB pad for some extra emphasis in capturing the mid and high-ranges of a voice. Also great sound pressure handling alongside its shock mount included gives us a good feel in its ruggedness. Ultimately the key with this microphone for recording vocals pick is its combination of great construction, smooth and natural sound alongside its price — we'd definitely consider this one budget-friendly, at least compared to many others in this guide. All in all, we love including the Audio-Technica AT2035 in here for those just starting out in recording and who don't have too much cash to drop on a high-end and expensive mic to begin their adventures."